One of the most common questions we receive concerns the Equal Employment Opportunity (EEO) complaint process.  Yes, without question, the process can be very confusing to the uninitiated. This is why there are numerous published EEO complaint process charts.  Here, we present yet another.  Previously, we provided a less colorful, but more explanatory version.  The best explanation is likely the non-chart overview version the EEOC provides. Regardless, it is critically important complainants understand the process and associated timelines. Many EEO complaints are dismissed primarily for the following reasons: timeliness and failure to state a claim.  If you are considering filing a complaint, you may want to first review two of our articles:  Making initial contact and EEO Claims and Basis.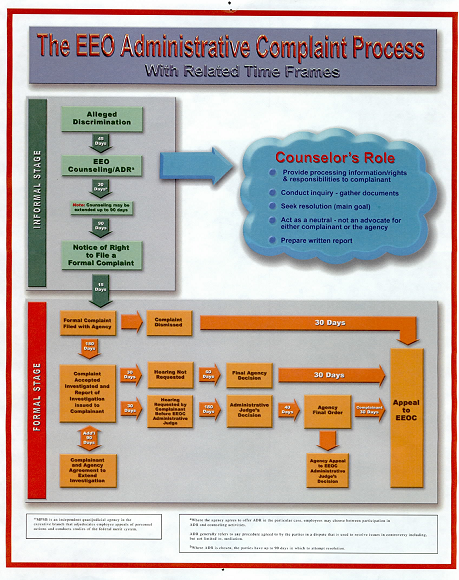 Informed Fed provides expert administrative consulting and representational services to federal employees and labor organizations in all labor and employee relations matters including arbitration, grievances, disciplinary and adverse actions,  Unfair Labor Practice Complaints, EEO Complaints, Reasonable Accommodation and Alternative Dispute Resolution matters.
The material on this website is intended to provide only general information and comment to the public. Although we make our best efforts to ensure information found on this website is accurate and timely, we cannot, and do not, guarantee the information is either. Nor do we guarantee accuracy of any information contained on websites to which our website provide links.  Do not, under any circumstances, rely on information found on our website as legal advice. It should be considered a general guide. Legal matters are often complicated and fact dependent. For assistance with your specific issue or inquiry please contact your local union, personnel office, or attorney. Consultants offered through this website are not attorneys and are not employees of Informed Fed. They are labor and employee relations practitioners. They provide services to clients in their individual capacities through individual agreements with their clients. Though attorneys are not required for representation in administrative matters or proceedings, there are instances in which our consultants may refer you to attorneys or otherwise make such recommendation. In no instance does this site, or consultants associated with this site, infer the provision of legal services.